ITU-USTTI Emerging Technologies Accelerating the Digital Transformation Process Training Session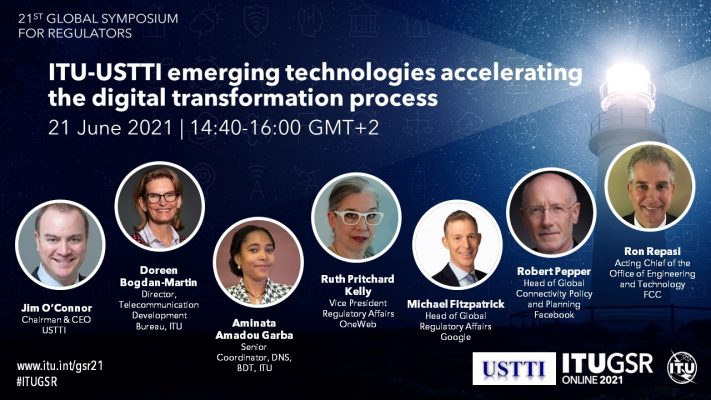 Since the year 2000, the Global Symposium for Regulators has been an important event for heads of national telecom and ICT regulatory authorities from all over the world. As part of the 21st edition of the symposium the USTTI and ITU will conduct a training session on Monday, June 21st. The session will address the regulatory best practices that enable the deployment of emerging technologies and how these technologies can accelerate digital transformation. USTTI Board Members, Google, OneWeb, Facebook and The Federal Communications Commission (FCC) will provide presentations on the work their organizations have been undertaking to accelerate digital transformation.
Speakers include:
Doreen Bogdan-Martin (Director, Telecommunication Development Bureau of the ITU)
Michael Fitzpatrick (Head of Global Regulatory Affairs, Google)
Ron Repasi (Acting Chief of the Office of Engineering and Technology, FCC)
Ruth Pritchard-Kelly (Vice President for Regulatory Affairs, OneWeb)
Robert Pepper (Head of Global Connectivity Policy and Planning, Facebook)
Aminata Amadou Garba (Senior Coordinator, DNS, BDT, ITU)
Jim O'Connor (Chairman and CEO, USTTI)
To register for this event please follow the instructions below:
Go to this link:
Select the training event found here:
Click on "Register here"
If you are a new user create an account and then complete the registration form
You will then receive an email with instructions on how to access the virtual meeting platform with a to the "VIRTUAL SESSION WEB PAGE" link
You will then click on the virtual room for the ITU USTTTI training session from the list of events.